With the New Year comes a decision to begin a new blog. It's not my first venture into the baseball card blogosphere- that began in April of 2010 with my other blog:
The Card Chop
, which is dedicated (primarily) to Atlanta Braves cards and collectibles. And while my collecting interests remain with the Braves, I still love the game of baseball and wanted an outlet to do some other things that aren't Braves related-which is where this blog comes into play.
The idea for Baseball Picture Cards actually started two years ago, with a blog of the same name I started on another site. After the first two or three posts, I realized it was still focused on the Braves, and didn't do anything else with it. Hopefully that won't be the case this time.
Enough with the introductions...
As I was perusing my twitter feeds this morning, I was reminded by Topps that we are now only thirty-one days away from the release date for their flagship product. I still look forward to the release of the product each year; it is, after all, looked at in the hobby as the 'Opening Day' of the cardboard universe. However, it no longer holds the excitement that it once did.
Am I excited for new Braves cards to add to my collections? Absolutely! But with the frustrations that many of us set collectors have experienced over the last few years, I no longer anticipate the release date
as a set collector.
I will abstain from any rants-I will only say that I won't be collating a set this year.
So with only thirty-one days until we have new cards-whatever our collecting habits might be- I though it would be a good time to do a countdown.
2011 Topps Black #31 Eric Aybar
Being a Braves fan, it was awful tempting to put either the '55 Spahn or '56 Aaron card here (each is numbered 31). However, since I'm trying to do a blog that's non-Braves related, I'll resist and just include this card.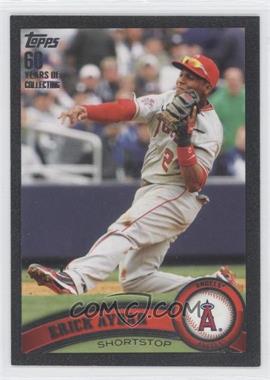 (photo from www.comc.com)
I love black bordered cards, and this is one of the best that I've seen. Not only is the photo great, but the colors go really well with the black border.