With the recent 40th anniversary of the death of the great Roberto Clemente,
one story
found it's way back in the public eye. Of course we know of the events that took place that evening. One thing I didn't know, however, was that the Pirates' Neil Walker has Clemente to thank for his very life, so to speak. Walker's father, former MLB pitcher Tom Walker, who was playing for Clemente in winter league ball, helped load Clemente's plane- and would have been on board that fateful night, had it not been so loaded down with supplies. As it was, Tom Walker's life was spared and thirteen years later Neil Walker was born.
And so it seems that Neil, born to Robert Thomas Walker was destined to play for his hometown Pirates-just like Roberto Clemente Walker (his mother's maiden name).
2012 Topps Black #25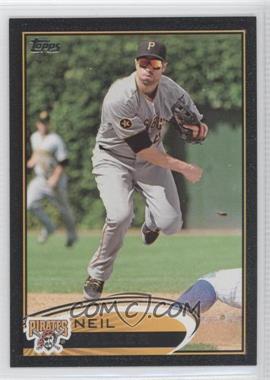 (photo courtesy of COMC)
Yes, the black bordered Topps cards are great. But-one picturing a Buc and the black and gold border? Stunning! I also like that the picture captures the ivory at Wrigley-adding to its throwback feel.